Kalian pernah atau berkeinginan mengunjungi Jepang? Pasti setidaknya ada gambaran pemandangan yang terhampar di benak kalian saat ini. Namun karena wabah coronavirus Covid-19 ini mengharuskan kita menunda perjalan ke Jepang untuk sementara waktu dan kita harus melakukan social distancing untuk mencegah pandemik bertambah parah. Setidaknya 10 pemandangan tak terlupakan di Jepang ini dijamin akan membuat kamu terhibur dan meningkatkan semangat teman-teman semua untuk mengunjungi tempat tersebut secara langsung nanti.
1 – The Path of Light: Kuil Miyajidake, Fukuoka
Pemandangan pertama ini adalah pemandangan langka karena pengunjung hanya dapat menangkapnya dua kali dalam setahun.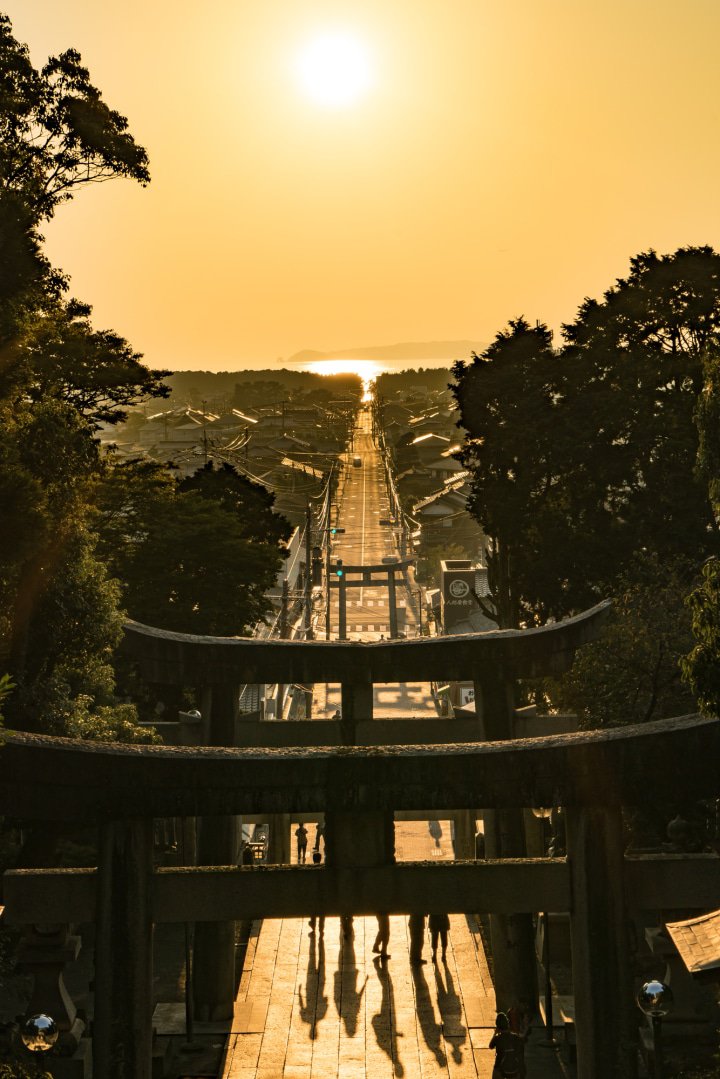 Untuk menyaksikan pemandangan ini, pergilah ke Kuil Miyajidake di Prefektur Fukuoka. Dua kali setahun pada akhir Februari dan akhir Oktober, matahari terbenam sejajar dengan jalan menuju kuil. Setiap fenomena hanya berlangsung sekitar satu minggu. Pemandangan ini dijuluki Path of Light dikarenakan, "Ini bukan hanya pemandangan yang indah untuk diposting di Instagram. Ketika kalian melihatnya, kalian akan merasa seolah-olah waktu telah berhenti. Ini hampir seperti pengalaman menyucikan diri" menurut salah seorang saksi pemandangan.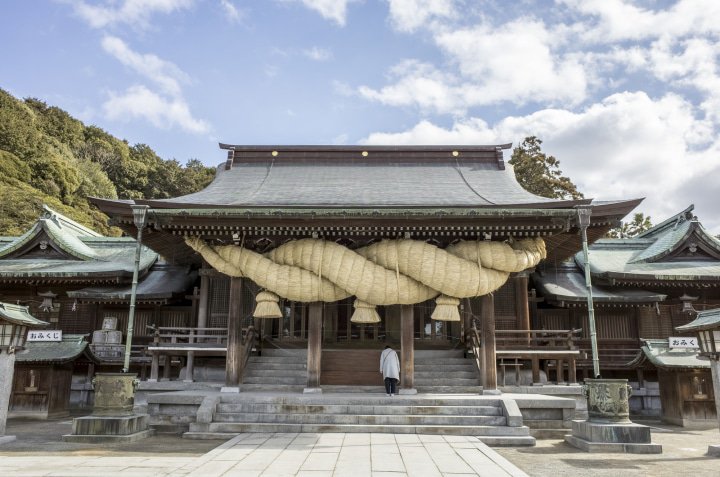 Bahkan jika kalian tidak sempat menyaksikan Path of Light, Kuil Miyajidake adalah lokasi yang spektakuler untuk dikunjungi. Shimenawa raksasa (tali sakral) di bagian depan kuil berukuran diameter 2,6 meter, panjang 11 meter, dan beratnya tiga ton. Ini adalah shimenawa terbesar di negara ini. Sama mengesankannya adalah bagaimana tali jerami raksasa yang dikepang ini diganti setiap tahun. Buku Cahaya Goshuin-cho (Jepang) digunakan untuk mengumpulkan stempel kuil yang akan menjadi kenang-kenangan bagus.
2 – Jalur Ziarah Tanpa Batas: Kumano Kodo, Kansai
Sebagai Situs Warisan Dunia, Kumano Kodo adalah jalur ziarah yang membentang melintasi prefektur Mie, Wakayama, Nara, dan Osaka di wilayah Kansai. Kuil ini menghubungkan Kuil Ise Jingu ke Kumano Sanzan (Tiga Kuil Agung Kumano): Hongu Taisha, Hayatama Taisha, dan Nachi Taisha.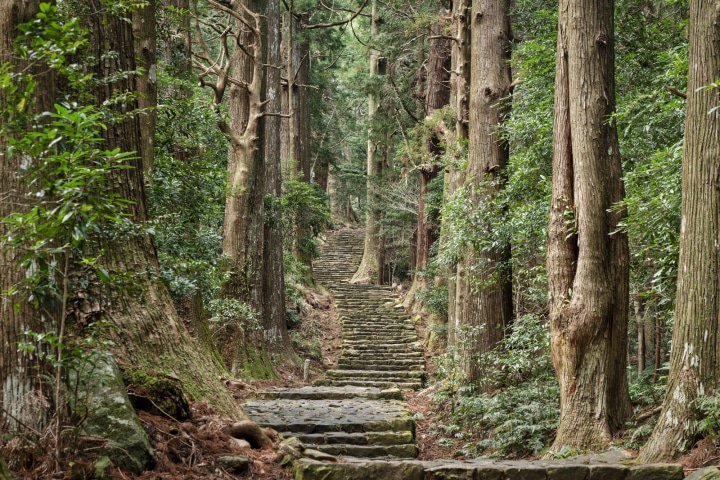 "Berjalan melalui hutan adalah pengalaman memasuki dunia lain. Tidak ada tempat lain yang terasa kaya akan sejarah dan alam seperti Kumano Kodo," ungkap pengunjung.
Onsen Yunomine: Pemandian Warisan Dunia Kecil
Selain rute ziarah, direkomendasikan untuk pergi ke Yunomine Onsen. Tsuboyu yang digambarkan di sini adalah pemandian mata air alami yang ditunjuk sebagai situs Warisan Dunia UNESCO. Terlampir dalam struktur kayu sederhana, onsen ini cukup besar untuk memuat dua atau tiga orang. Ada batas waktu 30 menit, jadi buatlah rencana yang sesuai ketika pergi dengan kelompok yang lebih besar.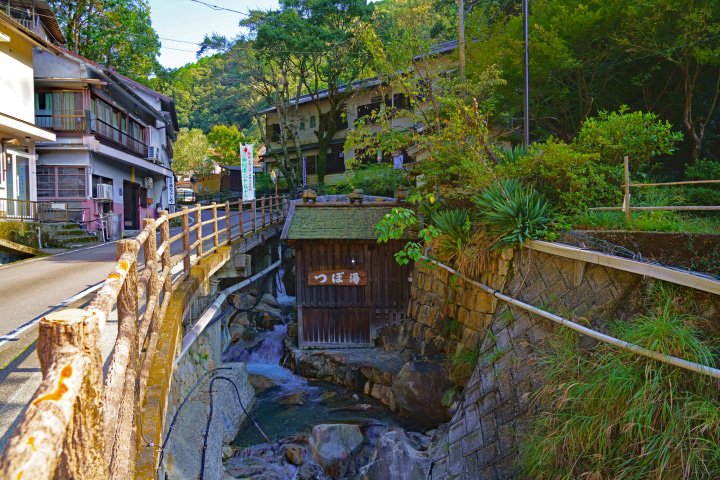 3 – Pemandangan yang Menyenangkan di Gunung Nokogiri, Chiba
Selanjutnya adalah pemandangan yang menggembirakan. Bisakah kalian melihat apa yang terjadi di sini?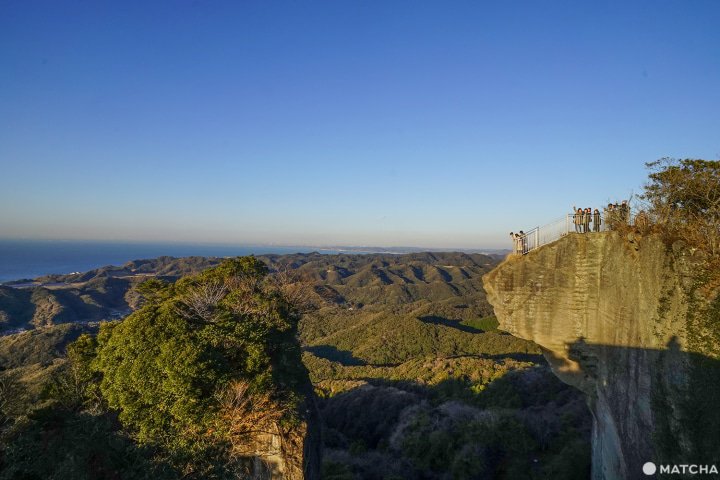 Ya, kalian bisa berjalan ke ujung batu yang menonjol ini! Ini adalah Gunung Nokogiri di Prefektur Chiba. Dikenal sebagai "Jigoku Nozoki," atau Hell's View, sudut pandang ini terletak di lokasi Kuil Nihonji. Dasar kuil Nihonji terdiri dari seluruh gunung, dan kuil ini terkenal memiliki patung Buddha terbesar di Jepang. Menjulang setinggi 31 meter, berbeda jauh dari Buddha Besar Kamakura (tinggi 13 meter) dan Nara (tinggi 18 meter).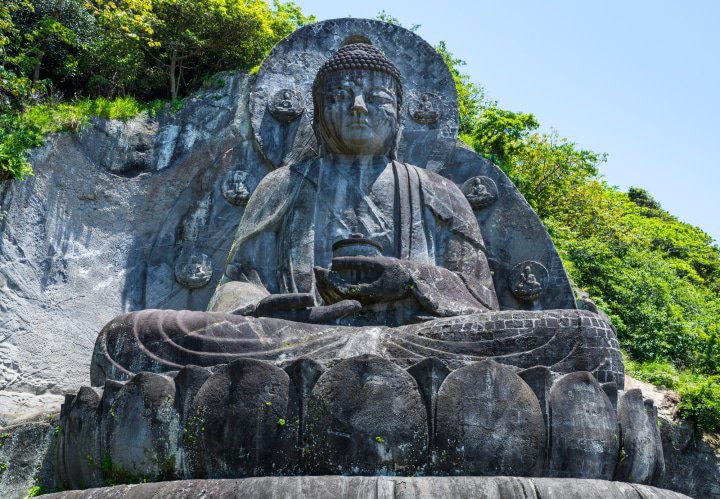 Gunung Nokogiri adalah lokasi yang luar biasa untuk membenamkan diri dalam alam yang subur dan tradisi bersejarah.
4 – Kecantikan Yang Menakjubkan: Kamikochi, Nagano
"Meskipun saya telah melihat foto orang lain, ketika saya melihatnya dengan mata kepala sendiri, itu lebih indah dari yang pernah saya bayangkan," ucap salah seorang pengunjung.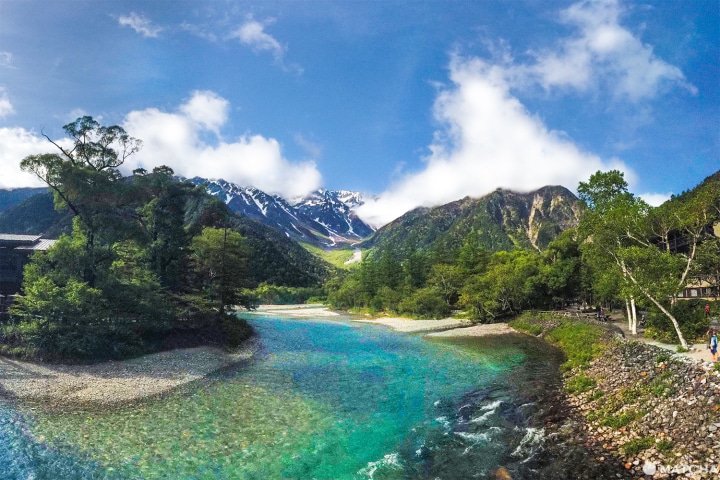 Kamikochi adalah tujuan wisata yang terletak di pegunungan Prefektur Nagano. Meskipun merupakan daerah pegunungan, ia memiliki tanah datar yang cukup luas dengan jalur pendakian yang dirawat dengan baik. Bahkan jika kalian tidak memiliki perlengkapan tracking, pengunjung dapat menikmati mendaki santai dengan mengenakan sepatu yang nyaman di Kamikochi.
The post 10 Pemandangan Tak Terlupakan Di Jepang appeared first on Japanese Station.