Rencana pindah tempat tinggal menjadi salah satu hal yang cukup merepotkan, mulai dari mencari tempat yang cocok, akses mobilitas yang mudah serta kenyamanan tempat yang dapat dinikmati dalam jangka waktu yang panjang.
Pindah rumah pun tak pernah absen dari hal-hal berbau mistis. Asal usul bangunan atau tanah yang nantinya akan ditempati pastilah memiliki sejarah yang tekenal atau bahkan disembunyikan. Di Jepang, konon ada legenda Yokai yang paling ditakuti dan menjadi salah satu yang paling menyeramkan dari semua jenis yokai. Yokai tersebut memiliki nama Onryo, salah satu yokai yang paling menakutkan menurut cerita.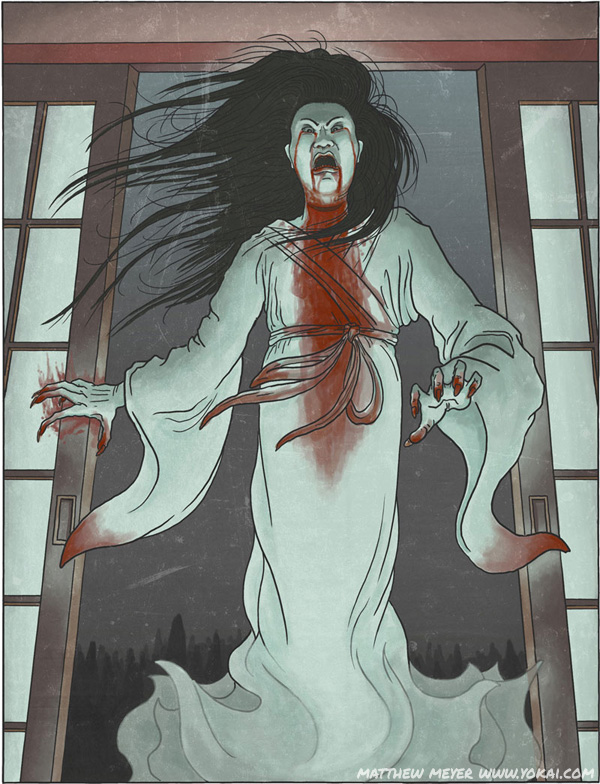 Onryo merupakan sebuah yokai yang gentayangan di daerah tertentu sesuai dengan tempat yang mereka kehendaki ditinggali. Mereka biasanya memberikan kutukan bagi orang baru yang tinggal di wilayah mereka. Kutukannya pun bermacam-macam, mulai dari yang ringan seperti penyakit hingga yang sangat berat seperti kematian. Mereka akan menampakan wujud yang paling menyeramkan seperti saat mereka mati atau menunjukan bagaimana mereka mati.
Hal semacam ini datang dari rasa dendam yang dibawa hingga mati oleh yokai tersebut, dendam yang belum terbalaskan itu hingga kematian akan terus bertambah. Biasanya mereka mati secara tidak wajar seperti disiksa dulu sebelum akhirnya mati atau lebih parah dari itu. Biasanya mereka adalah korban peperangan, korban bencana, pengkhianatan dan bunuuh diri. Setelah mati, mereka bergentayangan mencari orang yang telah menyiksa mereka. Onryo tak pandang bulu dalam mencari mangsanya, selama ia belum puas dan ditenangkan ia akan terus bergentayangan mencari mangsa untuk pembalasan dendam.
Menurut cerita hingga saat ini di Jepang ada salah satu Yokai Onryo yang kisahnya sangat terkenal. Ia adalah mendiang yang bernama Oiiwa yang tinggal di Tokyo. Sebelum kematiannya ia diperlakukan secara tidak senonoh dan brutal yang pada akhirnya dibunuh oleh suaminya sendiri.
Kisahnya diangkat menjadi sebuah film yang berjudul "The Ghost Story of Yotsuya", selain itu kisahnya pun diangkat menjadi sebuah buku dan perunjukan kabuki. Ada mitos mengatakan, jika kalian ingin mengisahkan kembali tentang Oiwa, kalian harus menerima kutukan seperti luka-luka hingga kematian. Maka sebelum memulai untuk mengisahkan cerita tersebut kalian harus mengunjungi makam Oiwa di Tokyo untuk berdoa dan meminta restu untuk mencertakan kisahnya.
The post Hendak Tinggal Di tempat yang Baru? Hati-hati Dengan Onryo Sang Hantu Penuh Dendam Di Jepangvvvvv appeared first on Japanese Station.