Ada kabar gembira untuk seluruh fans BALLISTIK BOYZ maupun EXILE TRIBE di Indonesia! Setelah hadir di Malaysia, showcase Ballistik Boyz akan hadir di Indonesia pada tanggal 1 dan 3 Desember 2019 di Jakarta. Acara dengan tajuk Ballistik Boyz Showcase in Indonesia ini akan dibagi menjadi 2 showcase di 2 tempat yang berbeda, yaitu pada tanggal 1 Desember di Main Atrium Mall of Indonesia (MOI) dan tanggal 3 Desember di Tribeca Central Park.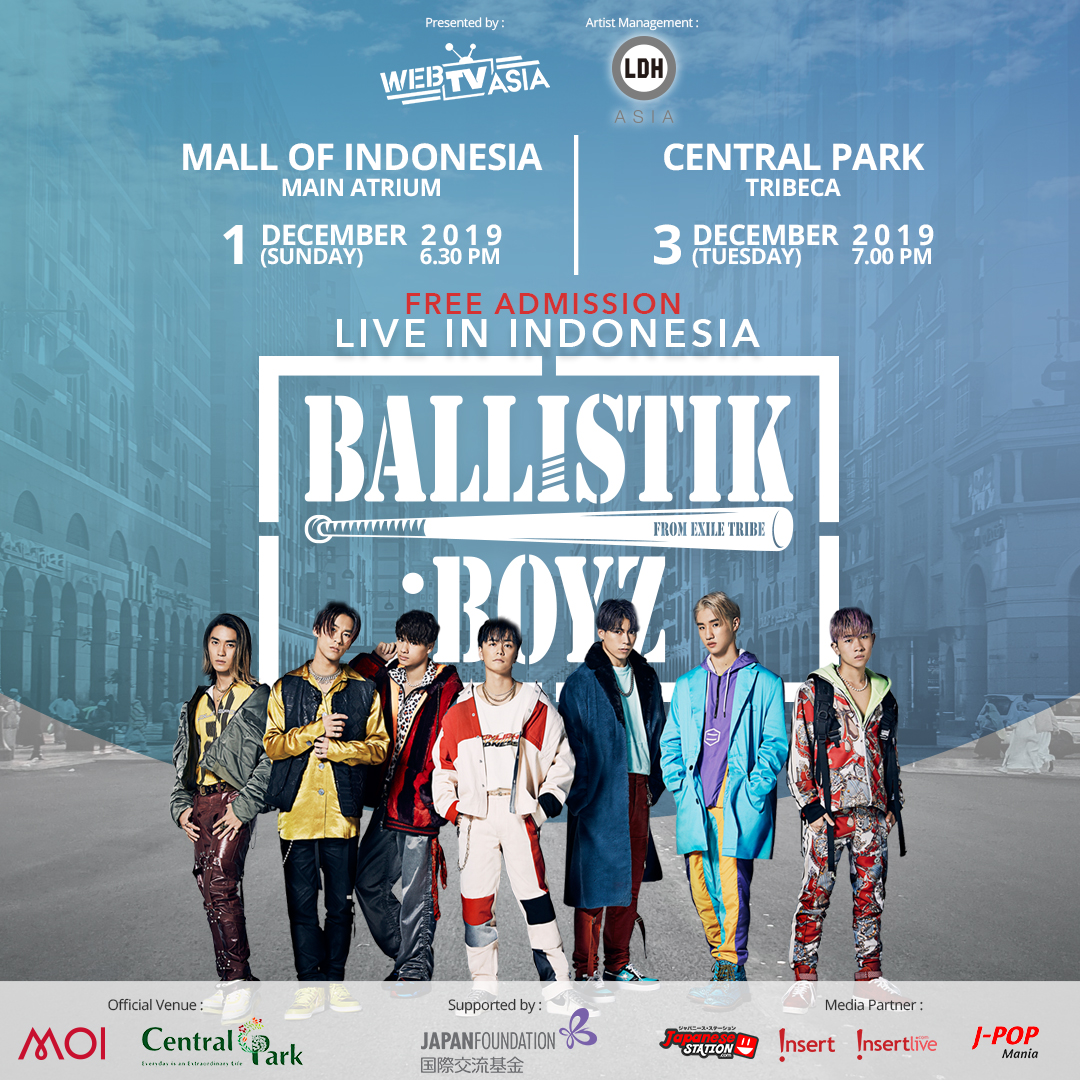 Ballistik Boyz adalah male rap, vocal, dan dance group dari Jepang yang berada dibawah manajemen LDH JAPAN. Grup yang beranggotakan 7 orang ini bermula dari Global Japan Challenge dan Vocal Battle Audition 5 yang terbentuk ketika Exile Hiro dan Doberman Infinity berkolaborasi saat Vocal Battle Audition 5. Pada 22 Mei 2019 mereka debut untuk pertama kalinya dan bergabung dengan Exile Tribe yang merupakan gabungan dari seluruh talent LDH Japan. Ballistik Boyz juga menjadi unik karena mereka adalah grup pertama dari Exile Tribe yang seluruh anggotanya bernyanyi.
Walau pendatang baru dalam industri hiburan Jepang, Ballistik Boyz telah membuktikan kualitas mereka sebagai idola dengan mendapatkan penghargaan MTV Video Music Award Japan 2019 (MTV VMAJ) di kategori Rising Star Award. Tidak hanya itu, mereka juga telah mengeluarkan 2 album yang salah satunya self-titled debut mini album bertajuk 'Ballistik Boyz'. Dari album inilah lagu Make U a believer terpilih menjadi lagu penutup acara Freestyle Dungeon dari TV Asahi di Jepang. Sementara itu, album 'Battle of Tokyo –Enter The Jr.Exile-' menjadi album live concert mereka yang pertama dan berkolaborasi dengan anggota Exile Tribe lainnya seperti GENERATIONS, THE RAMPAGE, dan FANTASTICS.
Showcase ini selain untuk mempromosikan single pertama mereka '44RAIDERS', juga bertujuan untuk mempererat hubungan Ballistik Boyz dengan fans mereka di wilayah Asia Tenggara.
Ballistik Boyz di Indonesia tidak hanya melakukan showcase, tapi juga akan melakukan dance collaboration dengan STEP BY STEP ID, dan mereka juga akan membuat konten berupa Try-Indonesia-Food bersama GIGI CHERRYBELLE.
Ballistik Boyz Profile
Hidaka Ryuta
Hidaka Ryuta merupakan member tertua dari Ballistik Boyz. Lelaki kelahiran 11 Januari 1996 ini terinspirasi dari kakeknya yang juga penyanyi sekaligus member The Shadracks. Hal itu membuat Ryuta ingin mengikuti jejak sang kakek dan berjanji akan bernyanyi satu panggung dengannya. Selain bernyanyi, Ryuta sangat menyukai olahraga untuk melatih ototnya, dan saat masih kecil ia pernah bercita-cita menjadi atlit.
Kanou Yoshiyuki
Tidak seperti anggota lainnya, Yoshiyuki memulai karirnya dengan melatih suaranya, lalu barulah ia belajar menari. Meski pada awalnya kesulitan untuk mengikuti gerakan yang bisa dengan mudah dilakukan oleh member lainnya, namun ia sekarang mampu untuk melakukannya berkat latihan yang keras. Yoshiyuki lahir 10 September 1996 dan spesialisasinya dalam bernyanyi adalah beat-box. Ia juga pernah bercita-cita menjadi dokter hewan.
Kainuma Ryusei
Lelaki kelahiran 19 Juni 1999 ini pernah mempunyai mimpi menjadi pembalap F1, ia memulai karirnya sebagai rapper dan memenangkan rap section Vocal Battle Audition 5 (VBA 5). Ia memiliki ciri khas sebagai rapper dengan gaya rapnya yang agresif dan 'attacking'. Ryusei berasal dari keluarga campuran dengan seorang ayah asli Jepang, dan ibunya yang berasal dari Brazil. Karena itu ia bisa berbicara bahasa Portugis dengan fasih.
Fukahori Miku
Fukahori Miku merupakan member Ballistik Boyz yang paling multi-talenta. Selain mahir dalam koreografi dan membuat komposisi musik, ia juga bisa bermain drum, piano, menulis lagi, dan akrobatik. Miku pernah berkesempatan untuk belajar koreografi dan bernyanyi di Amerika Serikat, karena itu ia juga mahir berbahasa Inggris. Miku merupakan 'maskot' leader Ballistik Boyz meskipun mereka tidak pernah berbicara siapa leader Ballistik Boyz, karena semuanya adalah pemimpin dalam Ballistik Boyz. Miku lahir pada 1 Juli 1999 dan sering melakukan penampilan akrobatik yang beresiko.
Okuda Rikiya
Okuda Rikiya sudah ada di LDH sejak 2007. Sejak kecil ia selalu mengikuti Yuta, salah satu member dari GENERATIONS. Ia mengidolakan Yuta dan terinspirasi oleh gaya fashion, hairstyle, dan gaya menari Yuta hingga saat ini. Yuta juga lah yang mengajari Rikiya menari saat kecil. Sejak menekuni karirnya, ia bersama Miku dan Masahiro pernah menjadi bagian dari Project Taro. Lelaki kelahiran 12 Oktober 1999 ini mahir dalam melakukan Hip Hop Dance dan gaya menari favoritnya adalah RnB.
Matsui Riki
Sejak kecil, Riki telah banyak memenangkan battle dance. Keinginan kerasnya untuk menggeluti koreografi dipengaruhi oleh kedua orang tuanya. Mereka bahkan mempunyai studio tari bernama 'Beat Clasp'. Ia memiliki wajah yang babyface dan kerap dipanggil Riki-chan dan diperlakukan seperti anak kecil oleh member lainnya. Lelaki kelahiran 26 Maret 2000 ini mempunyai hobi memancing dan bermusik, ia juga bisa memainkan Bass walau masih pemula.
Sunada Masahiro
Masahiro pernah bermimpi menjadi pemai sepak bola dan di masa kecilnya ia pernah pergi ke Spanyol dan Portugal untuk belajar sepak bola. Selain mahir bernyanyi dan melakukan gerakan koreografi, ia juga bisa bermain gitar dan piano. Ia juga gemar melakukan kegiatan seperti modelling, fotografi, dan menonton film. Ia juga ingin berakting suatu saat nanti, ia pernah belajar akting saat tinggal di Amerika Serikat. Masahiro adalah anggota termuda yang lahir 17 Mei 2000. Meski anggota paling muda, ia merupakan anggota dengan sex appeal paling kuat dibanding yang lainnya, anggota GENERATIONS bahkan sering memanggilnya erotic. Ia merupakan pekerja keras dalam mencari uang dan ia suka membawa seluruh keluarganya makan yakiniku di restoran mahal.
The post Ballistik Boyz Showcase in Indonesia: 7 Individu Bertalenta Siap Menghibur Exile Tribe Fans di Indonesia appeared first on Japanese Station.