Slime Rancher Viktors Experimental Free Download
adalah game sandbox dengan sudut pandang orang pertama di mana player akan mengendalikan seorang karakter bernama Beatrix LeBeau. Beatrix merupakan seorang rancher (pengusaha peternakan) yang memutuskan untuk pindah dari bumi ke sebuah planet yang sangat jauh yaitu Far Far Range.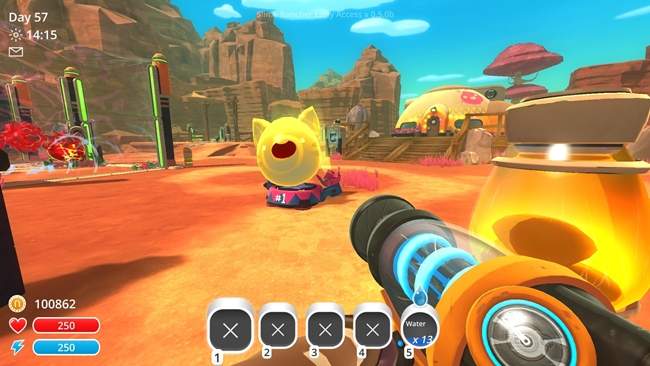 Di planet ini, sebagai Beatrix maka player diharuskan untuk mengumpulkan, mengeksplor dan membangun peternakan Slime-nya. Slime sendiri merupakan organisme hidup yang bentuknya mirip seperti agar-agar dengan berbagai macam karakteristik serta ukuran. Tidak hanya ditangkap, player juga harus merawat mereka seperti dengan memberikan makan.
Jadi, player perlu untuk memberikan jenis makanan yang tepat kepada para Slime sehingga mereka bisa memproduksi plort. Plort tersebut dapat dijual untuk mendapatkan mata uang yang disebut Newbuck. Dengan mata uang yang berhasil dikumpulkan, maka player dapat memakainya untuk berbagai hal seperti membangun rumah peternakan atau membeli berbagai macam peralatan.
Sebagai rancher, player bisa memakai sebuah alat vacuum yang disebut Vacpack untuk menyedot dan mengumpulkan para Slime. Sayangnya kapasitas vacuum ini terbatas sehingga ketika sudah penuh, maka player dapat kembali ke ranch mereka dan melakukan unload sebelum dapat mengumpulkan Slime lagi. Untungnya alat tersebut bisa diupgrade supaya memiliki kapasitas dan tenaga yang lebih baik.
Di dalam game ini, player juga bisa menyelesaikan berbagai macam misi dari para rancher lainnya. Dan ketika berhasil menyelesaikan misi tersebut, maka player bisa memperoleh bonus reward. Download juga Stardew Valley yang sama tentang peternakan.
Info
Developer: Monomi Park
Publisher: Monomi Park
Release date: August 1, 2017
Genre: Action, Adventure, Simulation
Mode: Single-player
This release is standalone and includes all content and DLC
Screenshots: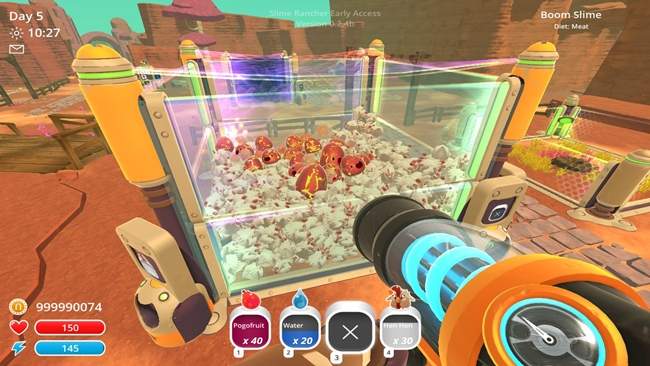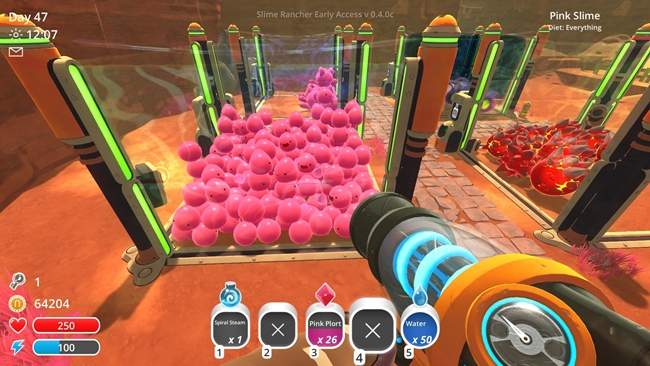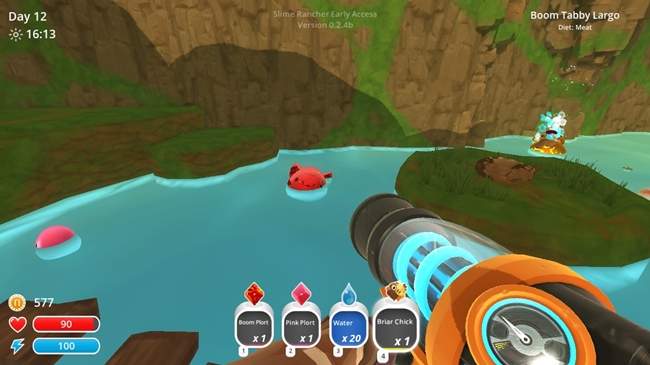 System Requirements
OS: Windows 7+
CPU: Intel Dual-core @ 2.2 GHz
Video Memory: 512 MB
RAM: 4 GB
Hard Drive: 2 GB free space
DirectX: Version 11
Cara main:
1.Mount file iso dengan PowerISO.
2.Buka folder Win64 atau Win32 (sesuaikan dengan OS)
3.Jalankan setup dan instal.
4.Copy isi folder Plaza dan paste di folder instal Slime Rancher.
5.Klik kanan pada Gamenya lalu run as admin.
Slime Rancher Free Download
Slime Rancher Game Free Download