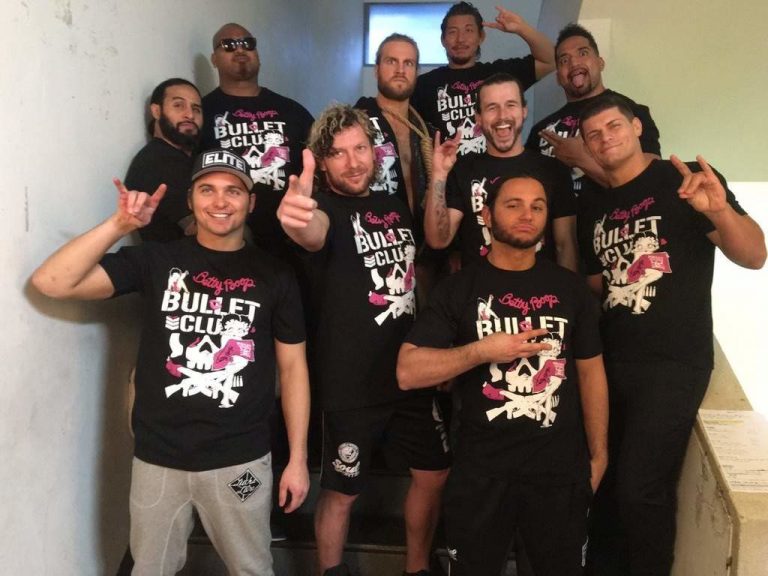 Bullet Club merupakan aliansi gulat yang paling mendominasi di NJPW hingga saat ini, aliansi ini dibentuk oleh "Real Rock 'n' Rolla" Prince Devitt (di WWE dikenal dengan nama Finn Balor). Sebelum terbentuk, Prince Devitt pernah satu tim dengan Ryusuke Taguchi dengan nama Apollo 55. Di bulan April 2013, tepatnya di event Invasion Attack Prince Devitt "menusuk dari belakang" Taguchi dan memperkenalkan seseorang bernama Bad Luck Fale. Pada bulan Mei di tahun yang sama Devitt dan Fale muncul untuk merekrut Karl Anderson dan Tama Tonga untuk bergabung dan terbentuklah aliansi Bullet Club dan mengintimidasi Hiroshi Tanahashi. Di bulan Oktober 2013, Bullet Club merekrut pasangan The Young Bucks dan di bulan November 2013, Bullet Club merekrut Doc Gallows (di WWE dikenal dengan nama Luke Gallows).
Di bulan Januari 2014, Ryusuke Taguchi muncul setelah pemulihan cedera selama 7 bulan dan ingin bertarung melawan Prince Devitt. Keinginan Taguchi terwujud di bulan April 2014, tepatnya di event Invasion Attack. Selama jalannya pertandingan, Devitt selalu berselisih dengan The Young Bucks yang berujung intimidasi pada Devitt oleh The Young Bucks. Akhirnya Prince Devitt dikalahkan oleh Taguchi dan beberapa hari kemudian Devitt meninggalkan NJPW.
Di bulan yang sama, Bullet Club merekrut "The Phenomenal One" AJ Styles dan menginginkan gelar IWGP Heavyweight Champhionship dari tangan Kazuchika Okada. Di bulan Mei 2014, tepatnya di event Wrestling Dontaku. Persaingan antara AJ Styles dan Kazuchika Okada untuk memperebutkan gelar IWGP Heavyweight Championship berlangsung sengit, sampai akhirnya AJ Styles memenangkan gelar tersebut karena ada pengkhianatan yang dilakukan oleh Yujiro Takahashi kepada Kazuchika Okada. Yujiro Takahashi menjadi orang Jepang pertama yang bergabung dengan aliansi tersebut. Di bulan November 2014 di event Power Struggle, Bullet Club merekrut pegulat Kenny Omega. Sebelum merekrut Omega, Bullet Club merekrut Chase Owens.
Di event New Year Dash bulan Januari 2016, Kenny Omega mengkudeta jabatan AJ styles sebagai ketua Bullet Club. Pada zaman Omega, Bullet Club membuat cabang aliansi The Elite Club yang beranggotakan Kenny Omega sendiri dan The Young Bucks. Tetapi salah satu anggota Bullet Club Tama Tonga tidak setuju dengan adanya cabang tersebut. Sehingga Tama Tonga membuat cabang aliansi oposisi Bullet Club bernama G.O.D (Guerillas Of Destiny) yang beranggotakan Tanga Loa dan Tama Tonga sendiri. Di era Omega, Bullet Club merekrut Adam Cole, Hangman Page dan "American Nightmare" Cody Rhodes (Sebelumnya di WWE dikenal dengan nama Stardust).
Di bulan Januari 2018, perpecahan di Bullet Club mulai terjadi ketika Cody Rhodes ingin mengkudeta pimpinan Bullet Club Omega. Konflik makin memanas ketika Omega merekrut mantan partnernya Kota Ibushi tanpa izin sehingga Tama Tonga dan Bad Luck Fale menganggap Kenny Omega sebagai "Mr. Nice Guy" Bullet Club. Puncaknya pada bulan Juli 2018, tepatnya setelah pertandingan Cody vs Omega di event G1 Special in San Fransisco, cabang aliansi oposisi (G.O.D) menyiksa Omega dan Cody. Setelah itu pihak oposisi mendeklarasikan bahwa G.O.D merupakan Bullet Club yang sebenarnya.
Mendekati akhir tahun 2018 , era baru Bullet Club muncul setelah bergabungnya "Switchblade" Jay White dan mantan manager Kazuchika Okada Gedo dan Jado.
Featured Image by: prowrestling.cool
The post Bullet Club, Aliansi Gulat NJPW Yang Pernah Terpecah appeared first on Japanese Station.